Free 3D Design Service
At BathroomsByDesign we truly understand the importance of a bathroom and the positive effect it can have on health and well being.
We are also mindful that every bathroom should have a timeless appeal with quality products that are built to last. So no matter what your circumstances, your investment will be maximised with a bathroom that complements your home for years to come.
We make the process of imagining and creating a beautiful bathroom quick, simple and enjoyable.
Whether you opt to come in to our showroom or you take advantage of our online consultation at home, our expert and knowledgeable design consultants will help you browse our unsurpassed range of products and technology. Together, we will find what will best suit your lifestyle and make the most of your available budget.
We have built our own innovative and industry leading 3D design software, to bring out the inner designer in you.
Collaborate with your BathroomsByDesign consultant to effortlessly explore tailored options in seconds, from a selection of best-in-class bathroom products. Experiment with stunning lighting concepts, decoration and every aspect of your dream bathroom to add the finishing touches that bring it to life. Then immerse your senses in stunning virtual reality, allowing you to walk around your dream bathroom before you buy.
We will continue working with you until the design is exactly right.
Every step of the way, your designs are instantly available for you to view and share, on your phone, tablet or computer using our unique virtual reality viewer app.
We Understand What Is Important to You.
Our design consultation starts by us getting to know you and your unique situation. We look at who will be using the bathroom and what your lifestyle demands of the space?
We use understanding of what has inspired you and show you various layouts, products, technology and colour schemes that could enhance the design potential.
Our design consultation starts by us getting to know you and your unique situation. We look at who will be using the bathroom and what your lifestyle demands of the space?
Choose your journey to your dream bathroom
We have an unsurpassed range of products available to you, including the latest design innovations and technology, that will inspire your inner designer.
With Bathrooms By Design you can choose to explore in the way that is the most convenient to you.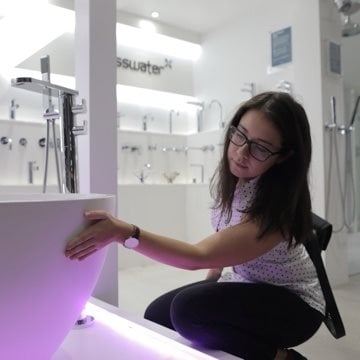 Local Showroom
Touch and feel beautiful bathroom settings and explore the vast range of products, either on your own, or with one of our design experts...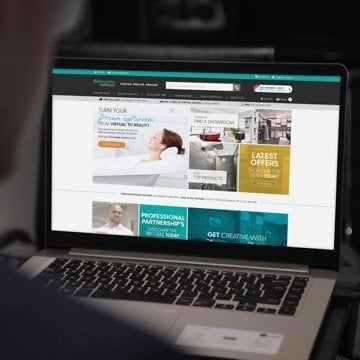 Website
Browse through our online shop or use an array of innovative 'Design & Buy' tools to construct your ideal bathroom suite in a few simple clicks...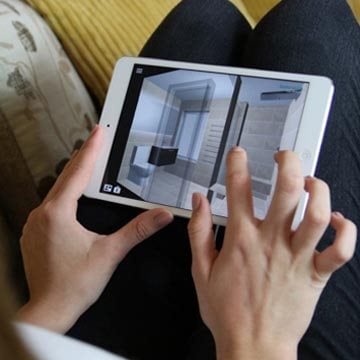 Plan2design VR App
We have assembled 100's of showcase designs, all of which can be viewed in stunning virtual reality. See our Plan2Design VR App page for more details...
Start with the Measurements
To start the design process, we need a few measurements from the room that you want to create your new bathroom in.
We have made our design service very much tailored around you. So whether you schedule an online consultation, from wherever you are, or arrange an appointment at your local showroom to meet your designer face-to-face, we will be able to create the perfect bathroom design for you.
In less than an hour, we help you explore a vast range of available options and you can spend as long as you need for us to get it just right. Using our proprietary software, we have simplified the design process to make it quick and easy, without compromising on sophisticated design principles.
We strive to create a bathroom, truly unique to you and tailored to your budget.
We Promise To
Explore all available options to make the most of your space
Propose quality products that are 
built to last
Ensure the practical aspects of the design is achievable in YOUR home
Include everything that is needed for the design in the price
Provide the best value for YOUR budget
We Create a Tailored Design
We recognise that the creative process needs to keep up with the imagination of our customers, and this has led to our own industry leading bathroom design software.
Powerful
Products can be chosen and placed in seconds. Wall features, such as alcoves and other built in elements can be moved and repositioned in 3D and in real-time. Even the effects from the chosen lighting is recreated. As each change is made, it is instantly available to be viewed.
Smart
As we work through the creative changes with you and use our expertise to show you products that will compliment your design, our software is working in the background to instantly calculate the cost of the fixtures and fittings, to ensure that we always stay within your available budget.
Practical
From innovative room sealing, to the latest in air extraction technology we will guide you through all of the options that are available to ensure that your bathroom remains beautiful for as long as possible and your home is fully protected.
Experience It In Stunning Virtual Reality
Whether you use our Virtual Reality system in our showroom or our free VR App and headset for your phone, you will get to walk around your bathroom design and look from all angles, to get the best possible sense of whether it is right for you.
We can then continue to work on the design until you are absolutely sure we have got the right design for you.
Share with Your Family and Friends
Using our VR App, you can choose to share the design with your Family, Friends and anybody else that you need to see it. Once they have downloaded the app with your invite, they will have instant access to your designs.
Satisfaction Guaranteed
Sometimes you need to share your designs with those closest to you, before you truly understand if it is going to work for you.
That is why at Bathrooms by Design, we give you a promise that you can come back and continue to work on your design until it is completely right for you and without any commitment from you.
Support at Every Step of the Way
Once your design is complete and order placed, we will organise a delivery schedule that works for your project, so that products arrive in a single convenient delivery or in stages as your installation team needs them.
If you need assistance with finding a local installation team, we are happy to recommend a selection of approved and suitably certified businesses who have worked for previous clients.
When you have an installer, we are on hand to assist them with any aspect of your bathroom, from design guidance to technical support. Our job is to work with them to ensure that you are delighted with your finished bathroom.