RICHMOND, TW9
Project cost: £7,501 - £10,000
Project year: 2018
Country: United Kingdom
This wonderful ensuite bathroom project in Richmond is captivating with its unique sense of style and monochrome effect.
The client came to us with an inspirational photo of a dark ambient bathroom which they wanted for their own.
The StoneKAST Ovale freestanding bathtub takes centre stage in the ensuite as well as the wall hung Faeber countertop unit which are beautifully offset against the darker hues of the grey and gold tiling.
A walk-in shower gives this loft bathroom the ideal practicality with ambient lighting giving the entire room a soft, subtle ambience.
A fascinating combination of practicality, luxury and contemporary trends, this bathroom project is a showstopper.
.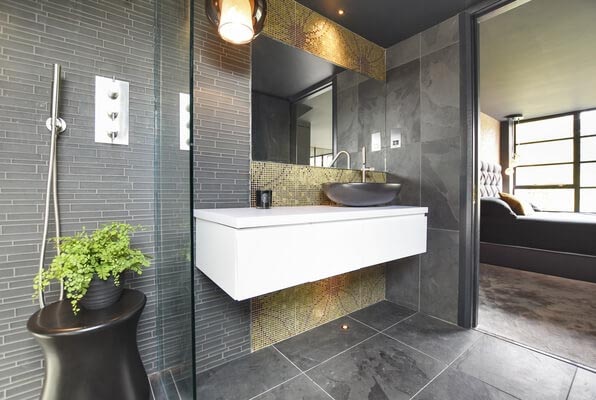 Products Used In This Collection
Faeber Mode 60 Basin Unit Slim Drawer Unit Matt White

Faeber Mode 30 Side Unit Slim Drawer Unit Matt White

StoneKAST Ovale Mini Bath
What Our Customers Say...
Don't just take our word for it, see what our customers think!
Book a Free Design Consultation
Simply fill out your details below and we'll be in touch